Prescient is proud to announce several new hires our Cyber and Due Diligence practices. All of the team members highlighted below joined Prescient in 2021 and we are pleased as always to welcome two Summer interns!
---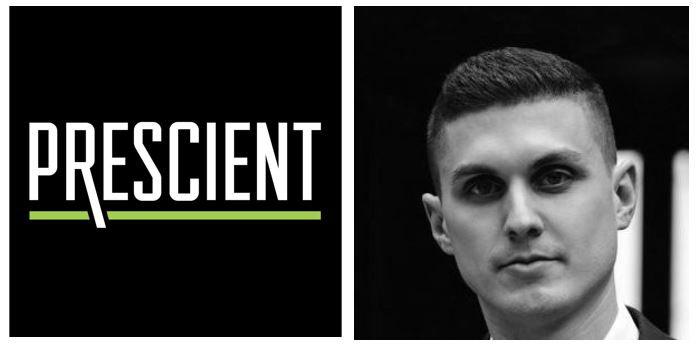 CYBER PRACTICE
JON TABER
Jon Taber is a Director in Prescient's Cyber Practice. Based in New York, he supervises the Executive Digital Protection program and Dark Web Assessments while also providing expertise to Prescient's other practices. Jon's wide-ranging investigative experience encompasses forensic analysis, enhanced due diligence, asset tracing, anti-money laundering and discreet source development along with conducting internal investigations.
Prior to joining Prescient, he served in senior roles at Berkeley Research Group's Global Investigations practice and at FTI Consulting's Global Risks and Investigations practice. In these roles, Jon managed several high-profile criminal investigations for a federal government client, HIPAA cyber security risk assessments, and testified as a mobile forensics expert in federal court. Jon began his career at the Manhattan District Attorney's Office, where he managed the evidentiary research of high-profile prosecutions involving terrorism, murder, and drug trafficking. Jon is a graduate of the University of Delaware, where he received an B.A. in psychology and a graduate of John Jay College of Criminal Justice, where he received an M.A. in criminal justice with a focus in terrorism studies.
.
RA TIEDEMANN-NKABINDE
Ra Tiedemann-Nkabinde is a Senior Associate in Prescient's Cyber Practice, specializing in digital risk assessments and OSINT, deep, and dark-web based investigations. Currently, he is supporting the growth of Prescient's Executive Digital Protection program and online threat monitoring services on the East Coast. Prior to joining Prescient, Ra served as a Prototype Security Project Manager with one of the world's largest multinational technology companies. Ra has also held several positions in global risk intelligence at leading security companies and risk management consultancies, where he was responsible for delivering risk intelligence analysis for a diverse portfolio of nonprofit and corporate clients, including Fortune 500 leaders. Ra holds a Ph.D. in Finance and Religion from the University of Cape Town, a M.Sc. in African Studies from the University of Oxford, and a B.A. in African Studies and the Study of Religions from the School of Oriental and African Studies (SOAS), University of London.
ANDREW ARRINGTON
Andrew is a Senior Associate in Prescient's Cyber Practice, handling open-source research. Prior to Prescient, Andrew was an Associate on the Latin America team of Kroll's Compliance, Risk, and Due Diligence division, where he led complex, multinational investigations utilizing open-source information and human source networks. He holds a Master's degree in Middle East, Caucasus, and Central Asian Securities Studies from the University of St. Andrews (Scotland) and a Bachelor's in International Studies from American University (Washington, DC).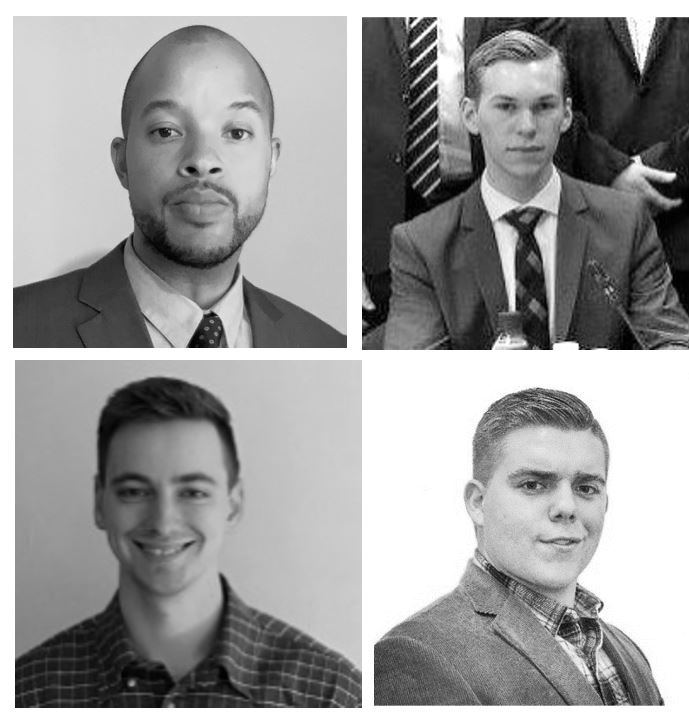 Clockwise from top left: Ra Tiedemann-Nkabinde, Andrew Arrington, Isaac Templin, and Andris Linauts.
ANDRIS LINAUTS
Andris joined Prescient as an Associate with the Cyber Practice in February 2021 working primarily on Executive Digital Protection engagements and ongoing threat monitoring. His prior experience related primarily to physical threat assessments and reputational monitoring for technology companies and high-net worth families. Andris graduated from the University of Delaware in 2016 with an Undergraduate degree in History/International Relations (and a wife!). Andris currently lives in the northern Virginia region, where he moved to complete his M.A. from American University in 2017.
ISAAC TEMPLIN
Isaac is an Analyst in Prescient's Cyber practice, working to research, analyze, and monitor for client threats. His passion for investigation and analysis ignited during previous roles researching threats to various religious, governmental, commercial, financial, educational, and healthcare entities. He received an education in International Affairs with a Concentration in Security Policy. Isaac recently joined Prescient and is proud to be able to make an impact everyday.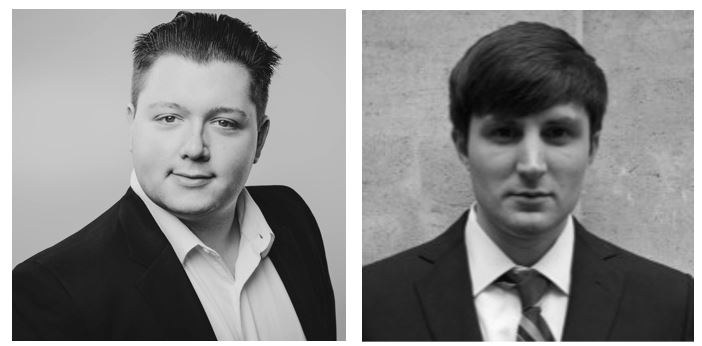 Liam Deering (left) and Ted Rappleye (right)
DUE DILIGENCE PRACTICE
LIAM DEERING
Liam joined Prescient in March 2021 as an Associate Director in the firm's Due Diligence and Investigations practices. He began his career in the due diligence industry at Exiger Diligence, where he spent the last year in a senior leadership position in the company's office in Bucharest, Romania. Liam completed his undergraduate studies at the University of North Carolina at Chapel Hill ("UNC") and received an M.A. through the TransAtlantic Masters Program at UNC, in conjunction with the Vrije Universiteit Amsterdam.
TED RAPPLEYE
Ted is a Senior Associate in Prescient's Due Diligence practice, in addition to providing ongoing support to the company's Cyber and Investigations practices. He handles pre-transaction engagements and other investigative research, as well as digital threat assessments. Prior to joining Prescient, Ted spent two years as an Associate on Kroll's Compliance Risk and Diligence team, where he conducted pre-IPO due diligence and other reputational reviews. Ted received a Bachelor's degree from the Princeton School of International Affairs and moved to the private sector after working as a research associate in the U.S. Foreign Policy program at the Council on Foreign Relations.
INTERNS – CYBER & DUE DILIGENCE
MAGGIE REISEL
Maggie has been helping our Due Diligence team this year after previously interning with Prescient in the summer of 2020. She recently graduated from the University of Notre Dame, where she double majored in Political Science and Philosophy with a minor in Computing and Digital Technologies. Prior to working with Prescient, Maggie interned in the White House Office of Public Liaison in 2019.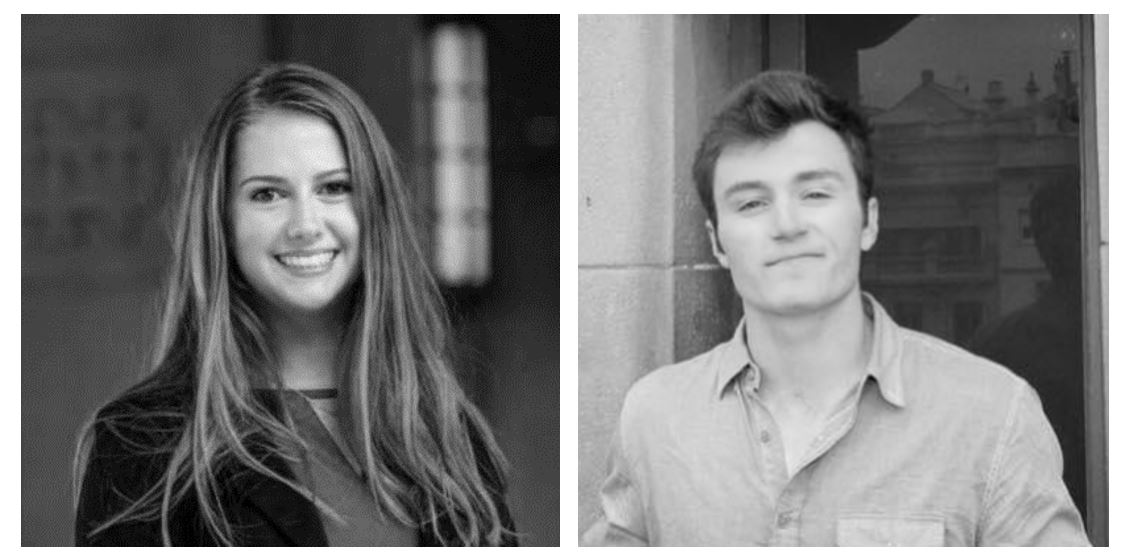 ALBIE GIANDOMENICO
Albie is an Intern primarily working within the Cyber practice. He studies Economics and Astrophysics at Harvard but took a leave of absence this year in what would have been senior year as a result of not feeling that virtual classes were worth full tuition. He is currently working out of an apartment in Cambridge, MA and will be in office this summer in Chicago. His other interests include playing and watching sports, listening to any music other than screamo rock, and getting out into nature. His biggest role model is Leonardo da Vinci, and enjoys filling his free time with anything from taking up new art projects to bartending at a local restaurant.