THREAT ATTRIBUTION
Prescient's ability to uncover the real identities of anonymous threat actors is unmatched. At the client's direction, experts work to identify the threat actors behind anonymous email addresses, social media accounts, IP addresses, domains, cryptocurrency wallets, and more.
We utilize proprietary investigative tools and techniques to scour open web sources, dark web forums, chat rooms, and credential-protected sources in order to uncover PII associated with otherwise anonymous information. PII may include, but is not limited to other usernames, other accounts, contact information, physical location(s), and IP address(es). Our team can then unravel additional connections, building a top-level view of the threat actor's identity to assist with decision-making.
CUSTOM-BUILT PLATFORM & PROPRIETARY DATA
Prescient relies on our custom-built OSINT platform to conduct all online investigations. Experts use link analysis technology to pivot off of provided and discovered data to ultimately unravel a subject's identity and online presence. Our proprietary data includes a breached credential and compromised PII database with more than 40 billion records.
EXPERT SPOTLIGHT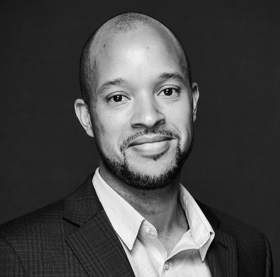 Ra Tiedemann-Nkabinde, PhD
Associate Director | Cyber
New York, NY
Ra's rare combination of academic and industry experience allows him to deliver for clients like few can. His corporate security experience with AT-RISK International and G4S in the U.S. and overseas made him an ideal fit for our Executive Digital Protection team, and he has been a critical part of growing that program into the industry-leading offering it is today. Before joining Prescient, Ra received his PhD in Banking, Finance & Religion from the University of Cape Town, as well as an MSc in African Studies from the University of Oxford.
Today, Ra leads Prescient's threat attribution program and oversees all projects, including those focused on hackers, extremist groups, and anonymous threat actors. He is based in Prescient's New York Office.