Prescient is proud to announce four 2020 additions to its advisory board: former Dyson CISO & Head of Global Security Adam Honor, Kiernan Group Holdings Founder & CEO Kathleen Kiernan, Cushman & Wakefield CISO Erik Hart, and Voyint Founder Jay Conolly.
---
Prescient is pleased to announce four 2020 additions to its advisory board, which the firm introduced in 2019 to leverage leadership from the highest levels of the public and private sectors. Joining existing Senior Advisors Mark Sanna, Andrew Zwerner, and Robert Grant, these four members will continue to support Prescient's global investigations, due diligence, cyber, and intelligence offerings.
"We are incredibly fortunate to have these individuals join our advisory board, as they bring decades of experience at the highest levels of the risk management, information security, and corporate security worlds," said firm President & CEO Jack McKenna. "As Prescient continues to grow and expand its capabilities, especially in the corporate security market, the guidance these advisors provide is invaluable."
Mr. Adam Honor
Adam is a transformational executive with proven leadership experience in both the corporate multinational and government sector, having spent the last 16 years working in commercial risk management. Most recently, he served as the CISO & Global Head of Security at Dyson Technologies Ltd. Prior to Dyson he served as the Global Director of Security with Invensys PLC, a FTSE 100 engineering company. His career started in the British Military, where he graduated from Officer Academy at The Royal Military Academy Sandhurst. He went on to hold senior security roles in the aerospace sector and at London-based Control Risks. In 2019, Adam was voted Security Professional of the Year by his peers, and he has received the International Security Management Association Founders Award for his contribution to the strategic direction of the security industry. Adam is also a serving Board member of ISMA.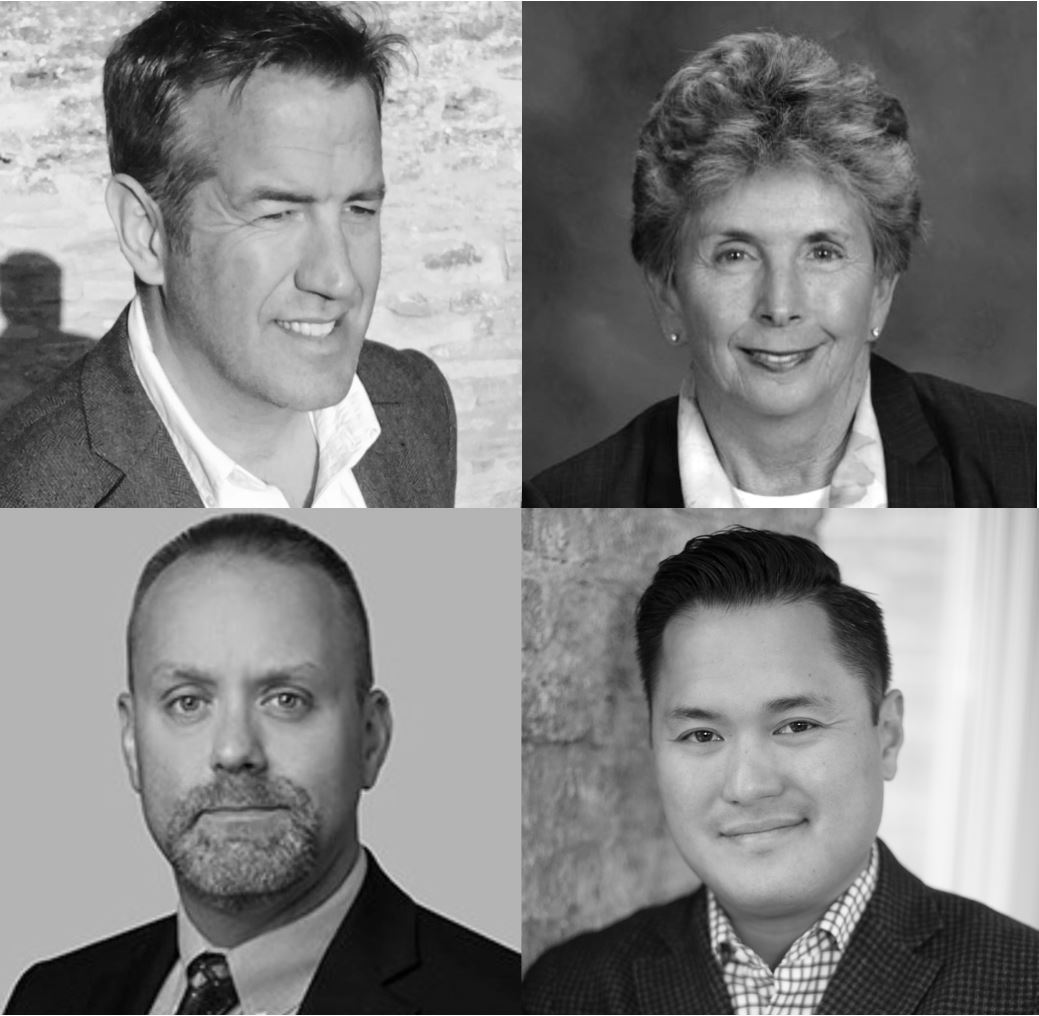 Clockwise from top left: Adam Honor, Kathleen Kiernan, Jay Conolly, and Erik Hart
Dr. Kathleen Kiernan
Dr. Kiernan is the Founder and CEO of Kiernan Group Holdings (KGH), a woman-owned small business with the mission to educate, engage, and empower individuals and communities to prepare for, react to, and recover from active threat and hazard events. She is a 29-year veteran of federal law enforcement, having previously served as the Assistant Director for the Office of Strategic Intelligence and Information for the Bureau of Alcohol, Tobacco, Firearms, and Explosives (ATF). Dr. Kiernan is a recognized expert in strategic thinking, strategy development, and facilitating critical incident management exercises for senior leaders across the government and private sectors. She has served as a SME for Risk Assessment and Gap Analysis efforts for some of the United States' most critical assets.
Mr. Erik Hart
Erik is currently the Chief Information Security Officer (CISO) of Cushman & Wakefield, which is among the largest real estate services firms in the world. Prior to joining Cushman & Wakefield, he served as CISO for Zebra Technologies and led information security for Leo Burnett, PEAK6 Investments, and Cole Taylor Bank (now part of Fifth Third Bank).
Mr. Jay Conolly
Jay dedicated six years of service to Prescient in both corporate and practitioner roles, and was responsible for building Prescient Comply, the predecessor to today's Prescient. Most recently, he served as a Managing Director in Prescient's Due Diligence practice, where he leveraged his industry expertise to help clients in the Greater Washington, D.C. market manage risk and mitigate reputational damage. At the start of 2020, Jay founded Voyint, a D.C.-based strategic partnership with Prescient that provides commercial pre-hire background check services and a variety of analytical services for the federal government. Prior to Prescient, Jay served in the U.S. Navy and was involved in counter-narcotics, anti-terrorism, and force protection operations around the world.